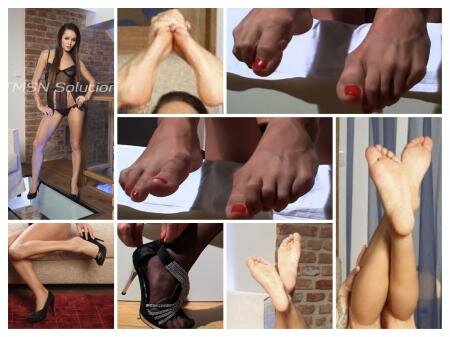 Sinful Serinda 844-33-CANDY (844-332-2639), ext. 394
Don't my feet look pretty up there? Toes painted red, wrapped in black nylon. I have very flexible toes, did you know that? I can flex them, and wrap them around things, use them to pick things up – I'm quite talented. Yes, my feet are very pretty. They'd be prettier, though, with your cock between them.
Know what I like most about rubbing your cock with my nylon covered feet? The fact that, much like the floor, you are beneath me. I'm practically walking on you, and you love that, don't you? You can lay there while I mangle your sad dick with my beautiful feet and you'll just eat up every second of it, won't you? That's because you know that you are dirt beneath my toes.
Yes, you should be thanking me for this. Do you know how lucky you are that I have blessed you with the feet of a Goddess? Open your mouth, show me how much you love my feet as I shove my toes into your mouth. Feel the nylon against your lips as you suck my toes through them.
I don't think you really appreciate what I'm doing for you, do you? Any man would beg me for this, to be fortunate enough to feel these beautiful feet. They'd be begging me to rub their cock with these feet until they cum all over my nylons, did you know that? Do you want that, too? Then beg me for it, my little footjob whore. Beg me…
Serinda
844-33-CANDY
(844-332-2639)
ext 394
http://www.sinfullysexyphonesex.com/serinda