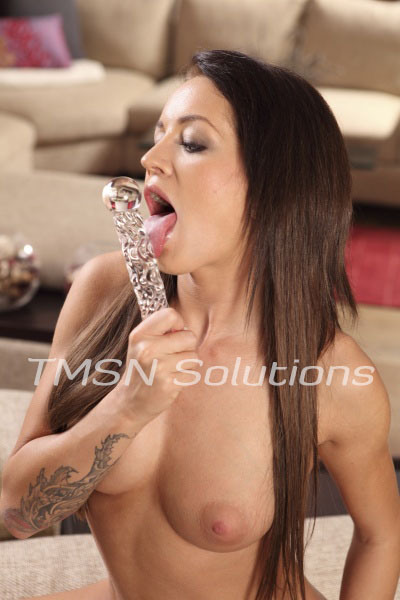 Sinful Serinda 844-33-CANDY (844-332-2639), ext. 394
You know, I do have a lot of fun with bondage and discipline. I love making you feel pain, but I also love giving you pleasure. Being the dominant MILF that I am, I am prone to taking what I want from you for my own pleasure. My insatiable lust for cock can easily turn into a cock worshiping experience for you that you won't soon forget.
Before we begin, you have to know that this cock you are holding on to does not belong to you anymore. This cock belongs to me, and it's mine to do with as I please, do you understand? Excellent. To start with you will completely strip for me and present that hard throbbing cock for my inspection. I'll have to run my hands up and down your shaft to feel that your skin is nice and smooth for me. I may even make you shave that all off for me if I want – it's mine, isn't it?
I do enjoy the sensation of a smooth cock running across my mouth and lips. Almost as much as I love feeling my tongue twirling around that head and lapping longingly up and down that shaft. I can tell you're really enjoying yourself, as I can feel your girth twitching beneath my touch.
All pleasure aside, the sadist in me does tend to come out on occasion. Not to the point of the more extreme, but I do enjoy running my nails across the tight skin of that cock. Gently digging them into your balls and squeezing gently. I know the feeling may be new and a bit shocking, but your safe with me and I'll always take good care of you.
I think if you enjoy all of that, you'd also enjoy if I maybe get out some of my more interesting toys. Maybe, if I so desire, I'll take my riding crop that I love so much and give you some light spankings under the head of your cock. Everyone has told me it feels amazing, tapping harder and harder at all the right spots, up and down that shaft to your balls. Trust me, you and that cock that belongs to me will love every second of it.
I have so many other ideas to share with you, but I don't want to give you too much detail here. If you feel like having some playful, loving or even a bit nawty worship on that cock, feel free to call me and pledge it's devotion to me.
Serinda
844-33-CANDY
(844-332-2639)
ext 394