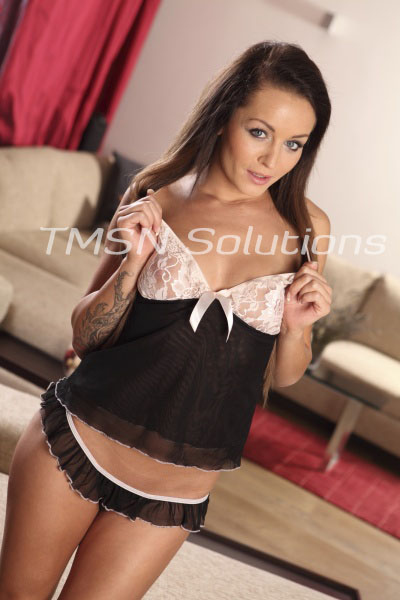 Sinful Serinda 844-33-CANDY (844-332-2639), ext. 394
Happy October!  It's my favorite month of the year, and you all know what that means, right?!?!  It's time for my Annual Fall Panty Contest!  The rules are simple!  You email me a picture of you in a cute, sexy, hot pair of panties.  Try to keep as close to the theme as you can.  At the end of the month, I go over all the entries and pick a winner!  Details below.
First and foremost, I've had *a lot* of you lovely adorable sissies emailing me asking about the Panty Contest.  I'm so sorry it took me a bit to get this up.  Some things had unfortunately gotten in the way that I won't bore you with details on.  Needless to say, I'm here now and ready to kick off this contest with a bang!
So let's talk about the theme this year.  So I love fall, and I think if I remember correctly last year's theme was just "spooky"?  I think?  That was pretty lacking in detail, but I still got some great entries.  At the end I picked a lovely pair of lilac panties as the winner of my contest.  (I love purple!)  But this year, I'm going to try to be a bit more detailed with the theme.  This year I'm looking for you to represent some pretty fall colors.
I've said it before – if I could go anywhere in the fall, it'd be Vermont.  The trees are beautiful, the colors pop, and it is just amazing.  Really, go on your favorite search engine and do an image search of "Vermont trees fall" and be amazed.  So this year, I want *you* to make those fall colors pop.  I want to see your fall colored panties, and I want you to make them sexy.  I'm looking for reds, oranges, yellows, and maybe even some greens.  Yes, green can be sexy.  You can make it sexy.  I know you can!
So there you have it!  Entries are being accepted…….. NOW!!  Send me an email with a pic of you rocking your most sexy fall colored panties.  My email can be found here.  1 entry per person please.  Please know that if you email me a pic, I will not always respond to email – but know that I got it.  Entries will be accepted 'til… since I'm a slacker, let's say November 8th!  You have until the second Friday in November.  Winner will receive a FREE 3 1/2 – 4 minute or so voice clip from me that we can work the details out on.  Looking forward to seeing what you all got for me!  Ta-ta for now!   <3 Serinda
Serinda
844-33-CANDY
(844-332-2639)
ext 394
http://www.phonesexcandy.com/serinda/
http://www.sissyphonefantasy.com/serinda