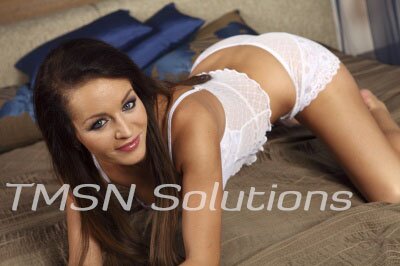 Sinful Serinda 844-33-CANDY (844-332-2639), ext. 394
The massage boy was holding onto my wrist, a lustful look in his eyes. I can only imagine how long he had been watching me play with my pussy, but the tent he was pitching showed me he couldn't take it much longer. He took my fingers, dripping with my pussy juices, and put them into his mouth, sucking my flavor off. Oh wow, this young stud was in for a treat.
He was fully into me. He inhaled my scent off my fingers and longingly tasted them in his mouth. He savored every bit of me. I spread my legs and offered myself to him. He rubbed his hand down my back, across my ass, and gently rubbed his fingers around and in my already wet pussy. I gasped as he teased my clit, tasting me occasionally. I ground my hips, trying to slip myself over his fingers but I couldn't quite get it.
He took his hands and started to massage my ass, planting little kisses on my cheeks and thighs. Ok, I needed that tongue in me. "Would you like to lick my pussy?" I asked, sensing his hesitation. "Yes please" he responded as I brought my hips off the table so he could get the full experience. He licked up and down my clit and pussy lips, sucking at me every now and then, and digging his tongue into me. He tasted my juices and lapped them off of me and his own face, we both loved every second of it.
As he tongue fucked my pussy, he brought his fingers up, circling my swolen wet clit as he licked me. It sent jolts through my body as I felt an orgasm build in my abdomen. He licked deeply, my pussy gushing around his tongue. As he played with my clit, he wandered his tongue up to my ass and licked my tight hole, showing me what a dirty boy he really was. I'd be lying if I said I didn't like it, and he seemed to know it as he pushed his tongue into me. I whimpered and couldn't take anymore "Oh, fuck my pussy baby, please!" I needed to have him, and he climbed up on that table, pulling his cock out of his pants and slid it easily into my waiting pussy. He held onto my hips and hammered me, forcing me to cum on his cock within seconds. My moans were heard down the hall I'm sure, but I didn't care as I collapsed onto the table, my need to cum finally satisfied. But I certainly wasn't done yet. That, however, is a tale for another day.
Serinda
844-33-CANDY
(844-332-2639)
ext 394
https://phonesexcandy.com/serinda/