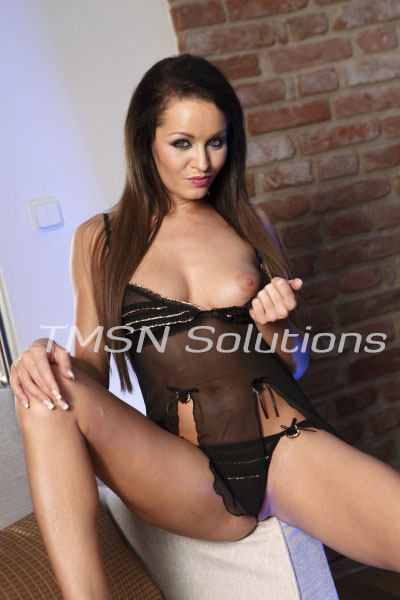 Mistress Serinda 844-33-CANDY (844-332-2639), ext. 394
Every day it seems I have a new potential submissive presenting themselves to me, asking that I use them to please myself. I don't hide the fact that I enjoy inflicting pain, and this is not just words. I really love inflicting pain, I can't explain it. It excites me, it arouses me, and if it excites and arouses you then it just makes it all the better for me. So if you are interested in pain from your mistress, here are some pointers.
Like many of you may already know, I'm really adept at administering a good spanking. When I see your bare ass bent over for me, begging me to spank you, something just clicks. And my mood really dictates what implement you will get spanked with.
Maybe you won't be spanked today, maybe it'll be the flog. I'm fond of my riding crop, personally – it makes the perfect slapping sound on your bare ass and thighs. Maybe it'll be the paddle. Point is I have various tools to help you feel what you want, so feel free to tell me your preference.
There really is nothing like a nice pink ass to get my juices flowing. Red is nice, too – but when it's nice and pink from a good spanking or flogging, it always seems to be extra sensitive to abuse.
A pink ass to me means it's nice and warmed up, it's ready for more. Once your ass is nice and warmed up, will you know that you need to beg me for more? Do you know how to beg your mistress for a nice ass spanking?
Here's a hint – it's not the words you choose, but the sincerity behind them. When you beg, you must make me believe how badly you want it. I want to hear the desperation in your voice as you plead with me to spank or whip that bare ass.
The final thing I want you to remember is this. When you are done receiving your spankings, you must thank me appropriately. I want you to drop to your hands and knees and worship my feet, thanking me between each kiss. When I feel you have worshiped me appropriately, I will permit you to stand. From there, maybe we can think of some more creative ways for you to feel pain for me.
Serinda
844-33-CANDY
(844-332-2639)
ext 394
http://www.sinfullysexyphonesex.com/serinda