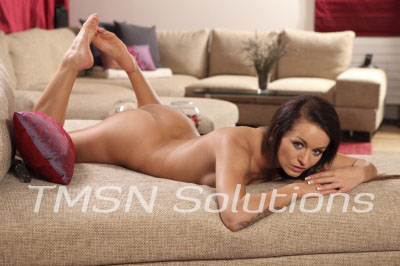 Sinful Serinda 844-33-CANDY (844-332-2639), ext. 394
When I bought my house, I insisted that I had an enormous bathtub for me to unwind in. My bath is where I unwind after a long, hard day.
What really helps me unwind is to be bathed, though. Unfortunately, there was nobody around this night to bathe me. Thankfully I had recently acquired a new submissive. He is very attentive to my needs and is eager to please in all ways. I made a quick call at the end of my work day and he was on his way.
"Prepare a bath for your Mistress" I greeted him with at the door. 20 minutes later now only was a hot bath drawn and ready for me, but candles were lit as well – it was a very relaxing atmosphere. I led him into the bathroom and stood clothed in front of him.
He gently removed my clothing I had been sitting and playing in for the day, dropping to his knees to remove my panties. He remained on his knees on the floor waiting for my next words. "Disrobe and join me – you are going to bathe me." He nodded and removed his clothing, stacking them neatly off to the side. He joined me in the tub at my back and I handed him some soap.
I could feel the care and attention as he ran his soapy hands over my skin. He messaged me as he bathed me, working his hands into a lather on my smooth skin. First, he cleaned my back and arms, working my tension out. I could feel his body squirm in discomfort as he fought not to touch his cock, but he remembered his place and focused entirely on me. I lifted his arms and let him bring his hands around me to wash my breasts. He did a great job controlling himself as he soaped every inch of my chest, cupping my tits in his hands and scrubbing down to my tummy.
Finally, I stood up and lifted one of my legs, placing my foot on his shoulder for him to watch my leg and foot. I also gave him the perfect view of my cute little pussy, which I would make him wash as well. He soaped up my legs dutifully and worked up to scrubbing my thighs, each leg at a time.
The look of adoration in his eyes spoke volumes to me – I was his Goddess right now, and he was worshiping every inch of my body. Before taking my foot off of his shoulder I motioned for him to scrub between my legs. He lathered up his hands and fingers and carefully ran his hands and fingers over my pussy. He took care as he washed around my clit and lips, running them between his fingers.
He was doing great, I'd have to think of a way to reward him more later. When I was finally all cleaned off, I turned around and bent over slightly, pointing my ass at him. With both of his hands freshly lathered, he soaped up my perfect little ass, tickling me slightly as he ran his fingers deep between my cheeks. When I was satisfied, I was rinsed and out of the tub as he dried me off. "You've done so well tonight. I think once we're both dried off I may just take you to the bed and give you a special treat." I've always wanted to try edging. Servitude has its rewards, remember that.
Serinda
844-33-CANDY
(844-332-2639)
ext 394
https://phonesexcandy.com/serinda
http://www.hotmilfphonesex.com/serinda