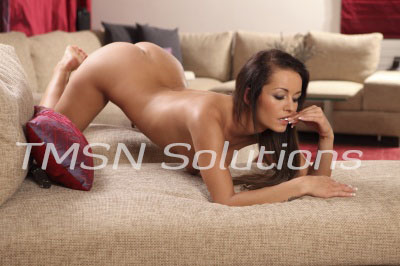 Sinful Serinda 844-33-CANDY (844-332-2639), ext. 394
You may not know this, but Southern California has a lot of naturally occurring springs in its many mountains. I've lost count of the number of times I've been out exploring some trails and stumble across a secluded quiet spot for us to take a dip into. It's even better when we can find one around a thermal pocket – it just entices us to strip down and slide our naked bodies in for a naughty swim.
The warm water is so welcoming to our aching bodies. We've been exploring for so long, it's good to treat ourselves. We can just hold each other in the water, rubbing our skin against each other, sounds so good.
Would you like me to rub your shoulders or back in the water? Bet it would feel so relaxing. But not too relaxing – you just can't hide that hard cock from me as you run your fingers over my skin. Over my arms and down my breasts, grazing my nipples. You really know how to tease me, don't you?
Even though we're off the beaten path, and there are plenty of trees around us, we are still exposed out here. Anyone can come wandering by and sneak a peak, but I say let them peak. I have nothing to hide or be ashamed of – I'm with you and that's all that matters to me right now.
Well, that and that hard cock of yours. I just love the feeling of it throbbing, growing in my hands, so hard and twitching. You like it when I stroke you off in the hot water, don't you? I can feel your whole body tense up in ecstasy, you like being exposed out here just as much as I do, don't you?
Naughty boy, don't worry, I'll take good care of you. Maybe guide your hand down to run your fingers across my slippery pussy. Stroking your cock makes me so wet for you. Yeah, I'm thinking the same thing – I think we need to hop out of this spring and maybe find a nice quiet spot to have some fun. So what are we waiting for? Let's go.
Serinda
844-33-CANDY
(844-332-2639)
ext 394
https://phonesexcandy.com/serinda