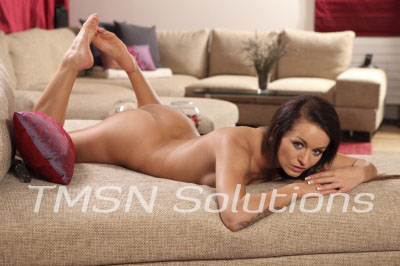 Sinful Serinda 844-33-CANDY (844-332-2639), ext. 394
Bet you never knew I used to work at a massage parlor, did you? It was a long time ago, of course, and it didn't really last that long. Long story short, I left my customers a bit too relaxed, if you catch my meaning.
Look, it was very difficult to resist! So many sexy men of all sorts coming through, all of them eager to have my hands over their oiled bodies. It was like a stud buffet and I was the only one there! Didn't have to wait, and it was every type I could have ever longed for. I tried to be a good girl, I promise I did! But just running my hands over those bodies just really turned me on so much.
I'd start with the back, as always. But then I'd have them roll over so I could work on the front. Maybe if it wasn't so easy to notice their hard cocks under that little towel I could have held it together better. But to see that tent get pitched higher and higher, I'd have to wander my hand under that flimsy towel and just grab a handful of that hard cock.
And it's not like they complained! How can anyone complain when there's an oiled hand wrapped around their throbbing cock and stroking it longingly Yes, I'm addicted to stroking cock, I admit it. And the moans and whimpers as I rubbed them, it just had me keep going. Well, I guess the boss got suspicious when the same clients came back day after day. Eventually, she had a listen outside my room and busted in and caught me and the customer in a mid-happy ending, ruining his orgasm in the process! Poor guy… Well, that was it for Masseuse Serinda – but hey, if you're looking for a happy ending of your own, ruined orgasm and all. You can always look me up. I'm always accepting new clients. 😉
Serinda
844-33-CANDY
(844-332-2639)
ext 394
https://phonesexcandy.com/serinda