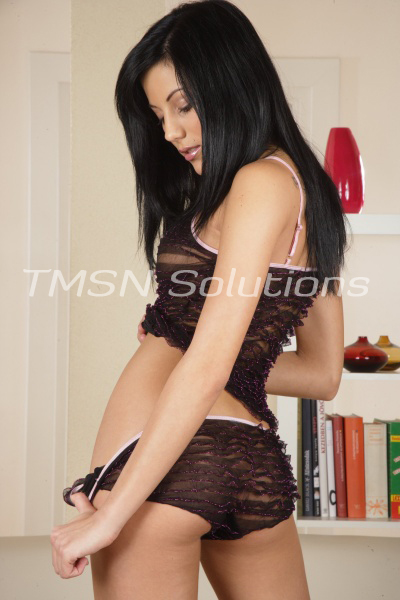 When your dainty little wife found out about us, I did what any girl would do! I used my sugary little pussy to make her do whatever I wanted. Tonight, I wanted her to do more than just share you. She didn't know it, but tonight I was going to share her, with whomever I could find *giggles*
I am the only girl she has ever tasted, and boy did she love to lickety lick me. Her desire to make me squirt all over her demure little face drove her to do things she wouldn't normally do. Just like you, she fell victim to the addicting scent of Rosie's Rose Garden that sits between my legs. I gave her a lick one day, and she's been mine ever since. I loved having the two of you all to myself, but I felt like it was time to share my new little toy.
I had scheduled some time just for us girls, telling her that we could party it up at my place and have some sexy fun. She showed up wearing a tight, sexy bodycon dress that accentuated all her flawless curves. I had to say, you married yourself a little fucking hottie! I led her to the bedroom where I already had a few lines set out for her. She was such a square when she was at home, but with me, her inner party girl always came out to play. She took to that snow laden mirror like a fly to shyt!
It wasn't long before she was begging for a taste of my pussy, just to get things started. I made her bow down to me first, and kiss my feet. She even gave my stiletto heel a blow job just to show me what a good little slut she was for me. I finally pulled my skirt up and pulled my black silky panties to the side. She inched herself closer, desperately wanting to lick my sweet treat. Taking hold of her loose curls, I buried her face in my twat. The more she had, the more she wanted. She was like a little kitty lapping up her milk, except I was the one purring.
It was at this point I took the opportunity to pry her off of my soaking wet pussy, and tell her how hot I thought it would be if I used my fuzzy pink handcuffs to restrain her to my bedposts. She totally let me do it, not knowing that I was streaming our playtime right into the room next door where I had two hot, horny guys waiting to cum in and play with us. They were just waiting for my signal. I made the bitch help me get my strap on in place. She thought I was going to use it on her, but the only thing she was going to get was lots and lots of cock in her mouth and in her ass. She just didn't know it yet.
To be continued…
Rosie
1-844-332-2639 ext 257
**Free Pics with each Paid Call or Chat**